The joy, nothing else
The joy, nothing else
EXHIBITION
After the show of MADELEINE FONDANTE* (bronze covered with fine gold) with MOUVEMENTS DE DANSE! by Auguste Rodin in a museum, the exhibition of COLLERETTE MI-PLISSÉE* (pongé of silk with an innovative plissé), PLANET YB 223 (ultra high-performance fiber-concrete) and PLANET WG 111 (ultra high-performance fiber-concrete) for "THE JOY, NOTHING ELSE" curated by the art historian Paul Ardenne.
"This exhibition starts from a laudable intention in these difficult times: to expose the joy that today's artists can give it to see, draw a figure. The joy that is happiness, of course, but not only. There is also the joy of beauty, the joy that lavishes good health in our bodies, the mudita, again, that benevolent joy that makes us feel happy about the happiness of others, without forgetting the evil joy, the Schadenfreude, which incites to laugh under the cloak of the misfortune of our fellows"
Artists: Jean-Paul Agosti - Rodolphe Barsikian - Béatrice Bissara - Sylvie Castets - Sara Conti - Aurélie Dubois - Aurélie Gravas - Milène Guermont - Gustave - Joël Hubaut - Jacky Georges Lafargue - Thomas Lévy-Lasne - Nara Normande - Philippe Pasqua - Agnès Pezeu - Rachel Renault - Christian Renonciat - Dominique Renson - Camille Sabatier - Anna-Lisa Unkuri - Pierre Wemaëre.
Curator: Paul Ardenne, art historian, writter
From October 7 to November 18, 2023, at Galerie Guillaume, Paris 8e.
* sculptures imagined in the frame of the total artwork MAISON GUERMONT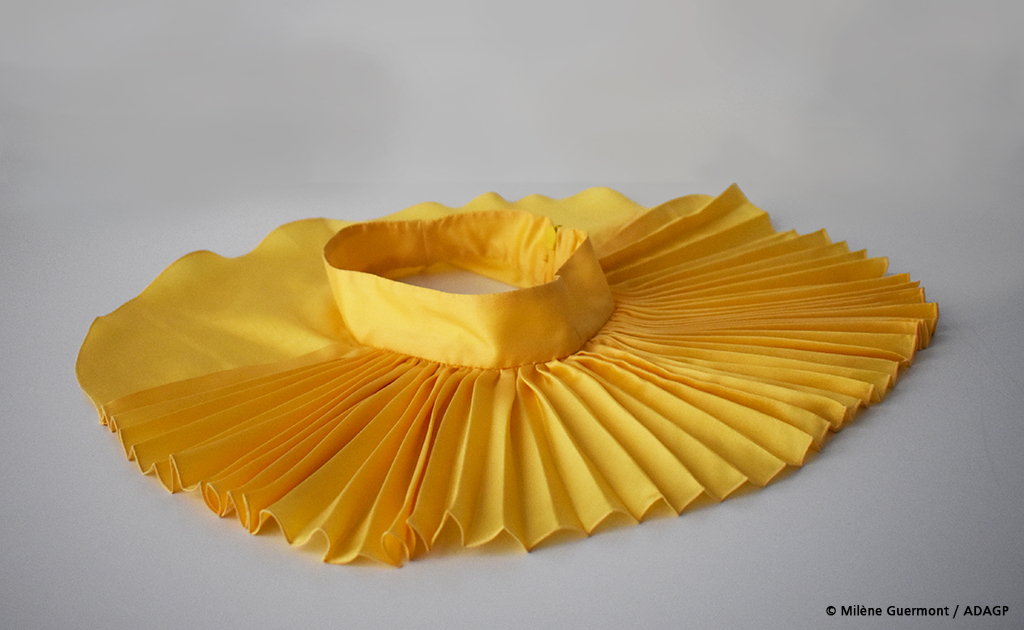 COLLERETTE MI-PLISSÉE* (HALF-PLEATED RUFFLE in English) seems alive… A silk jellyfish crawling?
This artwork was imagined to maximize its play with the light depending on the body or surface that carries it.
A silk manufacturer of Lyon made in an ancestral way a golden yellow pongé.
Then, one of the rare companies that still masters the technique of «pleating» was able to meet the challenge of folding the fabric but only on half of the textile.
Ancestral & innovation gave birth to this sculpture of silk and of light.
Post sur Instagram
Post sur Twitter
Post sur Facebook